<< Education is the most powerful weapon which you can use to change the world. >>
-Nelson Mandela
FACT:
Students who lack life learning skills are more likely to suffer from higher anxiety and depression.

High Social esteem is associated with lower anxiety and depression.
Get your Social Esteem score

High confidence can lower levels of stress and anxiety.
How Confident is your Student?
Strong Interpersonal skills are believed to periodically reduce chances of depression.
How strong are your Interpersonal skills?
Research indicates that low levels of confidence, resilience, and social skills are associated with higher levels of stress, anxiety and depression.
How can we impact these levels for our students?
The ConnectU
Student Assessment
is an online software, engineered to define character and optimize growth potential in
4 key areas
for students between 12 and 18 years old:
Confidence
Social esteem
Interpersonal skills
Resilience
Evaluate each of your students character strengths and track progress or areas for development – at a glance:



Used as a Key Performance Indicator, or for enrollment initiatives, and a way to demonstrate how your organization differs from others.
This site is user-friendly and all student profiles are customizable.
Easily view and track student progress - defined by character, semester, GPA, class, grade, or teacher.
Results can be monitored throughout the school year: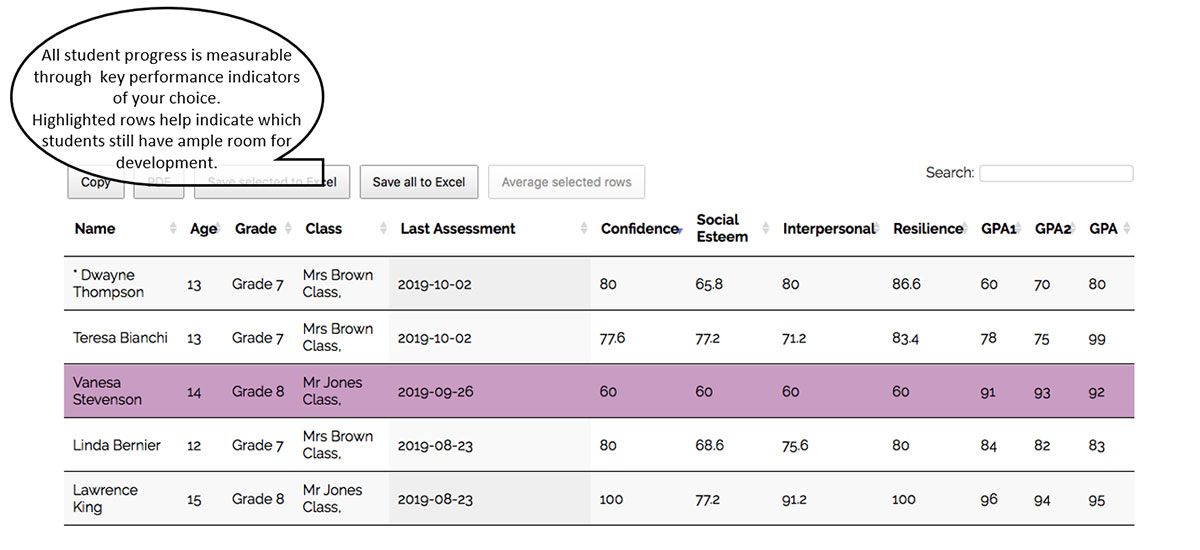 Developed by a PhD. in Industrial / Organizational Psychology, this tool brings tremendous added value and insights to schools, clubs and after-school programs. Administrators, principals, educators, mentors, and coaches gain knowledge about their students' pillars of growth and access historical student data efficiently.
Get an individual personality blueprint for each student, allowing you to learn about them, and connect at a deeper level.
Provide teachers, educators, coaches and mentors with valuable insights about each of their students, enabling new learning opportunities.
Directly impact student's life-learning skills, giving them every opportunity to become tomorrow's leaders.
Increase GPA's exponentially with learning curves. Get clarity on how the 4 key areas of growth change and impact students' GPAs.
Encourage new enrollment with actual statistics sourced in real-time, directly from your institution.